Co-Working spaces are not going anywhere. In fact, going by trends globally, they are only increasing in adoption. The combination of new working cultures, globally disperse teams, flexible working hours and adoption of modern technologies has given rise to the need to work from anywhere and at anytime. What originally started off in Silicon Valley has now become a global phenomena that is disrupting the Commercial Real Estate (CRE) markets. With the rapid growth and success of companies like WeWork, co-working and shared spaces are seeing greater adoption, not only from startups but from larger organizations such as amazon and salesforce for example.
Source: Visualizing The Rise of Co-Working Spaces
With the increase in the attractiveness of co-working spaces has given rise to CRE owners getting in on the act. Traditional CRE owners are transforming entire buildings or certain levels to create co-working spaces, thus eliminating the "middle men" such as WeWork who lease spaces from CRE owners and then sub-let them out to tenants. This result in cheaper options for tenants.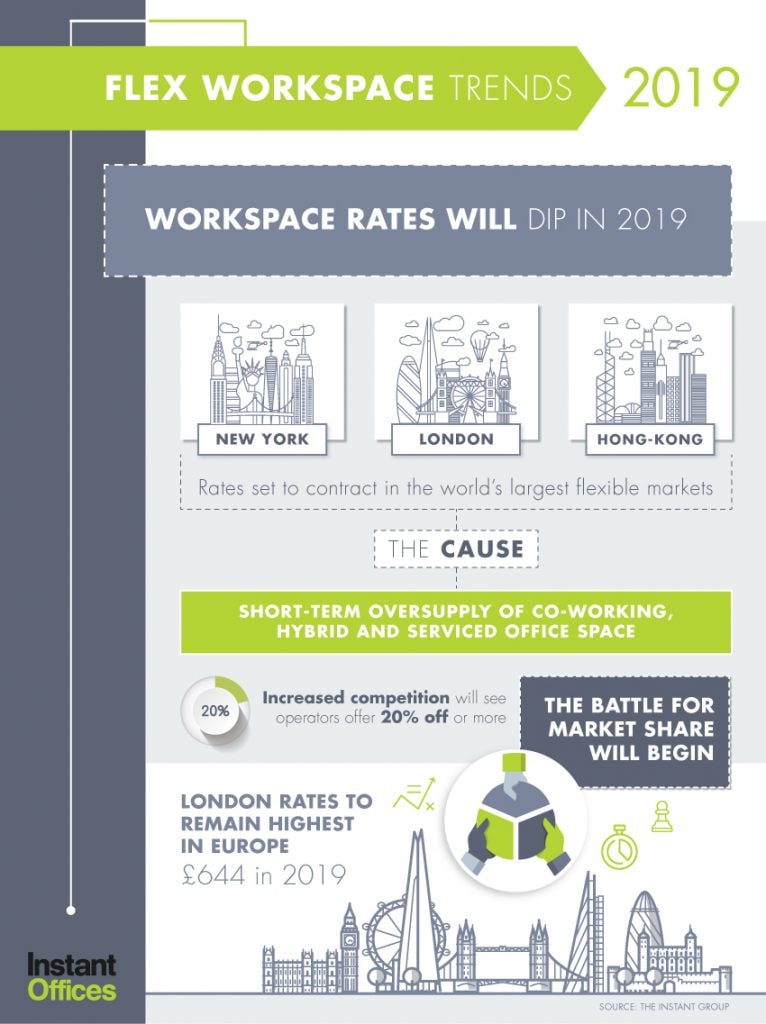 Source: Flexible Workspace Trends – 2019 and Beyond
The Challenge
While most CRE business emulate the co-working spaces companies, they still are in a very traditional mindset, where they intend to sell space on a short terms basis and nothing more while redesigning their space to look more like WeWork. While this can prove effective in gaining rapid adoption into a fast growing sharing market, such commoditization will only result in a price war and the encouragement of finicky behavior of tenants to move to a cheaper option at the drop of a hat.
To see real gains in co working spaces, CRE owners need to ensure retention of the tenants by giving them more than just an affordable working space. New metrics such as Retention Rates, Lifetime Value, Engagement Scores and Net Promoter Scores play an important role towards maximizing returns in their investments.
To be able to win in this area, CRE owners need to up their game that can differentiate them from other so-working space providers. Some of the areas where CRE owners can improve their game are provided below.
Use of Technology
Technology is going to play a critical role in the transformation of spaces into smart offices. The ability to connect various aspects of a building such as its' lighting, air-conditioning, elevators, entrance gantry/turnstile can provide a seamless tracking of data, visualization of information and building performance management not to mention security. In addition to the traditional building infrastructure, the internet of things provides building operators to measure, track and analyze environmental parameters to better manage their spaces. Information such as presence, occupancy and environmental parameters such as light conditions, humidity, CO2 levels and temperature create fine-grained data points for better management. Data collected from such sensors can prove invaluable in looking for areas of cost savings, increased utilization and maximizing occupancy rates. Combining such data with artificial intelligence provides owners with the ability to create models, analyze trends and design and automate responses to the environmental changes.
CREs owners have a unique advantage in being able to integrate such technologies into the building, a competitive advantage that cannot be availed off by tenants who cannot access such technologies at the building level. A complete closed loop system can provide new insights that can help develop new business models, revenue generation capabilities and cost containment opportunities.
Wellness & Well-Being
The average work day is getting longer and the lines between work and life are getting blurred. People are now plugged into work almost every waking moment. Activities such as going to the gym or a yoga class takes a back seat just because they need to commute. WeWork has seen the need to provide a more holistic environment to its tenants that it has rebranded itself from just a pure workspace provider to provide community and even live-in services (WeLive).
CRE owners must respond to this new direction by providing amenities and services that go beyond just office and work spaces. Facilities such as Gym, Spa, Cafeteria and gaming rooms can allow CREs to differentiate themselves while providing value-added services that can add to the bottom-line of these companies. Services such as shuttle services, shared vehicle services are areas that can be tapped onto to provide convenience and cost effectiveness while increasing the attractiveness of the service.
Events & Community Creation
The ability to understand the nature of the tenants and organize events that cater to their specific needs can attract and keep tenants on a long term basis. For example, if a CRE owner finds most of their co-working tenants to be startups, they can organize talks and courses of marketing or finance that can benefit the owners. Providing speeches by industry veterans can bring tenants closer to each other and form a community. This bonding and the intangible benefits of community and shared experiences can play a critical factor in disincentivising tenants from moving to another space.
This provides them the capability to track engagement, satisfaction and interaction between tenants as well as between tenants and the CRE owners. Information gleaned from such events and activities can prove competitively advantageous when it comes to augmenting the co-working space with more activities and initiatives.
Concluding
In the age of rapid disruption, CREs face significant challenges from new entrants in the co-working spaces. Being able to respond to these changes by differentiating their space through technology and services can mean increased tenant retention, increased satisfaction and more to the bottom line. While we still think that co-working space growth is in its infancy, the lower barriers to entry by many players mean that differentiation and rapid response to these changes is key to survival.